Review copy provided by NetGalley.
For decades, Thorn has reigned as the most powerful demon in Atlanta, lurking in the spirit realm, whispering lies to unsuspecting human ears, commanding all other demons to do his bidding. But when Marcus, an old demonic rival, returns from exile to attack Thorn unexpectedly, Thorn finds his power ripped from his grasp.

Wounded, desperate, and abandoned by his allies, Thorn is forced to ask himself questions—forbidden questions about demonkind's place in the universe. Questions that threaten to undermine everything Thorn and his fellow demons have believed for millennia.

With enemies closing in from all sides, Thorn grows ever more desperate for a way to escape his vicious life and to keep the people he loves safe in the process.

But Thorn is a vile, wicked demon who has committed unspeakably evil acts. He could never truly love someone. He could never become good.

Could he?
I didn't make it very far into this book, let alone finishing it.  That being said, let me try to explain why I felt this book wasn't the right choice for me.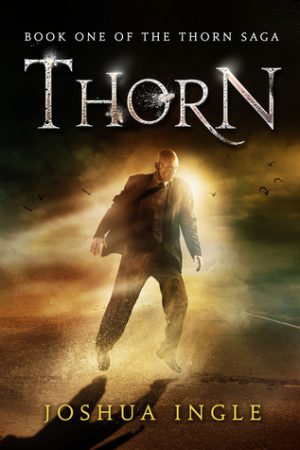 Thorn is the story of a demon, and demons generally veer toward the bad side of things. In this book, the demons' purpose is to push negative thoughts on people and encourage those thoughts to grow and fester.
In the short bit that I read, Thorn talked about a murder-suicide he was working to make happen, and how he couldn't get a different person to commit suicide yet. The world is filled with enough news stories that are sad and depressing. That is not what I want out of a story I'm reading for an escape.  Although the cover copy indicates that Thorn may become good, there was no hint of that in what I read. I didn't see any evidence that Thorn was going to be different from the other demons or have some redeeming qualities.
This is probably a case of giving up too soon, but there are so many books that I want to read that I'm not going to force myself to read something if it's just not working for me.  Every time I thought of picking this back up, I rejected it because I didn't want to read about someone being belittled, or hurt, or told that they're unattractive or not good enough.  The negative beginning may be needed for the book to pay off later if Thorn undergoes a transformation, but it was enough that I found it off putting.
Although the subject of the writing didn't work for me, the writing itself was well done and I enjoyed some of the images the descriptions evoked. I found the demons themselves interesting, especially how they were not corporeal beings.  Rather than interacting with the landscape and tangential items, they could float their body where they wanted it to be. However, they were corporeal to each other, as Thorn is able to be beaten.  This is an interesting choice, and I liked that it wasn't just a case of a demon inhabiting a body in order to roam the earth.
Although I decided not to finish this story, I encourage anyone to check it out if the darker tone would not bother you.
---