I remember when I first heard Chandelier, I was kind of like "What is this?", and then I looked up the video and that feeling was only reinforced. However, due to my days in the color guard back in high school, I really enjoyed the modern dance elements of the video and was majorly impressed. So I started telling people to watch the video because it was different, and awesome, and kind of crazy.  I checked out other songs, got one of her albums through Google Play, and enjoyed all the dance aspects to her videos. In short, I was hooked.
I wasn't sure exactly what she would do for a live concert, but based on her appearance on The Voice last season I hoped it would incorporate dancers.  I was not let down.  Her concert was not only her music, but a modern dance show as well.  I loved it!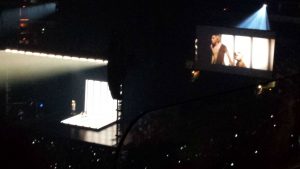 Sia stood off to the side, on a box, with her signature wig and bow.  And there was a smaller stage set up on the stage that was the setting for the dancers.  A few props were brought in, and the effects were simple. There were no pyrotechnics or over the top costume changes as one expects with a major pop star.  It was different, and interesting.  
I look forward to seeing what she does in the future.