She won't rest until she's sent every walking corpse back to its grave.  Forever.

Had anyone told Alice Bell that her entire life would change course between one heartbeat and the next, she would have laughed.  From blissful to tragic, innocent to ruined?  Please.  But that's all it took.  One heartbeat.  A blink, a breath, a second, and everything she knew and loved was gone.

Her father was right.  The monsters are real.

To avenge her family, Ali must learn to fight the undead.  To survive, she must learn to trust the baddest of the bad boys, Cole Holland.  But Cole has secrets of his own, and if Ali isn't careful, those secrets might just prove to be more dangerous than the zombies.
Yes, there are zombies.  Yes, there are elements of Alice in Wonderland.  No, this is not Alice in Wonderland with zombies thrown in.  Although a book like that does exist (Alice in Zombieland by Nickolas Cook – I don't recommend it).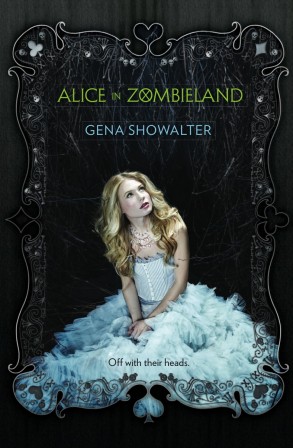 Gena Showalter has put a fresh spin on zombies and Alice, much to my delight.  I originally found this book, after reading the other Alice in Zombieland, and picked it up hoping that it would be more of the book I wanted to read, rather than the one I actually read (can you tell I was not impressed?).  This time, I wasn't let down.
Although it's based on Alice in Wonderland to a degree, I'll be honest with you – I can't pick out most of the counterparts.  Obviously, there's Alice.  Her best friend is Kat, so that one wasn't hard.  And then, at least in my mind, Cole is the Hatter.  Other than that I'm not sure who would be who.  And the really great part is that it doesn't matter.  This is a story built on its own foundations, and even if you had never heard of Alice in Wonderland, it would still hold up.
The zombies are even better.  They're not your typical undead-eat flesh-shambling killing machines.  In Alice's world, most people can't see zombies and have no idea they even exist.  These zombies exist in the spirit world, which makes for an interesting way of dealing with and fighting them.  People in the physical world are still in danger, only they have no idea what that danger is.  Alice and her friends are a group of slayers, who have the ability to fight the zombies in their natural habitat.  This ability is something that, while not rare, is also not rampant among the population and sets them apart.
Alice in Zombieland is also a young adult novel, so the main characters are all teenagers.  With teenagers comes a certain degree of angst, but it's handled well here.  I also find it believable for the most part, rather than overblown.  The teenagers act like teenagers, but they're still fully realized people.  Being a teenager is only one aspect of their lives, and the typical tropes aren't taking over the story even if they do show up. That being said, I do have a couple of things that I'm not fond of.  The story is set in modern day, and therefore the teenagers text – with all the abbreviations and acronyms and what not that is probably 100% typical.  However, I can't stand it.  I almost physically cringe when I read over the texts with too many 2's and U's.  My other issue is the reinforcement of how "bad" the bad boys are.  Not only do they look mean, but they have tattoos, and piercings, and more.  It's driven home and I feel we don't need so many reminders.  It is told from the point of view of a teenage girl though, so I guess maybe it's to be expected.
Overall, I thoroughly enjoyed Alice in Zombieland, and I'm excited to see how the story continues in Through the Zombie Glass.  Actually, I've already started reading it!
---