Three times they tried to kill her. Then a professional was hired. So was Riyria.

When the last member of the oldest noble family in Avryn is targeted for assassination, Riyria's Royce and Hadrian are hired to foil the plot. Three years have passed since Hadrian, the war-weary mercenary, and Royce, the cynical ex-assassin, joined forces to become rogues-for-hire. All has gone well until they're asked to help prevent a murder. Now they must venture into an ancient corner of the world to save a mysterious woman who knows more about Royce than is safe and cares less about herself than is sane.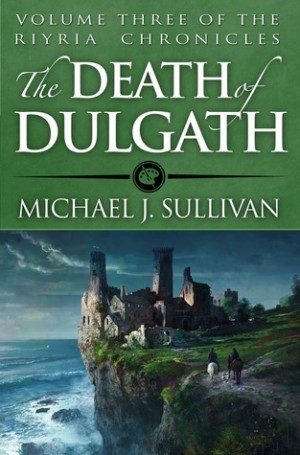 The latest Riyria adventure featuring our two favorite thieves, Royce and Hadrian.  (Note the wording, I said latest because I truly hope there will more of Royce and Hadrian's adventures).  I've read all of the Riyria books, and am happy to say that this series holds up while providing a closer look at Royce and Hadrian and how they came to be Riyria.
The Death of Dulgath follows the pair south, to an idyllic village where everything is not as it seems.  Throughout the adventure they face mishaps and hardships, showing that both are still learning and growing in their partnership and on their own.
Sullivan is a great world builder, and I'm hoping that if he continues Royce and Hadrian's adventures that we might see them travel further abroad to some of the other places mentioned in the Riyria series.
Each story is built so that is can be a standalone adventure, yet there are multiple nuggets in there for fans of the series.  With The Death of Dulgath I was pleased that the Fhrey were mentioned, as they are the focus of his newest series, The First Empire (of which I'm happily looking forward to).
---