Imperial law enforcer Amaranthe Lokdon is good at her job: she can deter thieves and pacify thugs, if not with a blade, then by toppling an eight-foot pile of coffee canisters onto their heads. But when ravaged bodies show up on the waterfront, an arson covers up human sacrifices, and a powerful business coalition plots to kill the emperor, she feels a tad overwhelmed.
Worse, Sicarius, the empire's most notorious assassin is in town. He's tied in with the chaos somehow, but Amaranthe would be a fool to cross his path. Unfortunately, her superiors order her to hunt him down. Either they have an unprecedented belief in her skills… or someone wants her dead.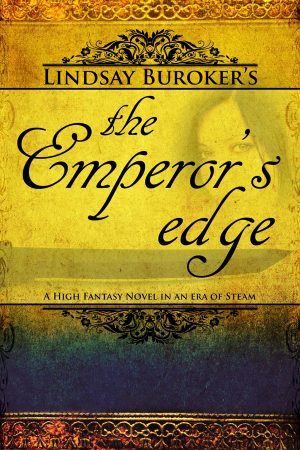 "A thrilling fantasy adventure!"  – Me
If I had to sum up the Emperor's Edge books, that would do it.  I will admit I wasn't sucked in on the very first page, but a few pages past that I was hooked.  A friend of mine recommended The Emperor's Edge (probably years ago) and I just hadn't picked it up yet.  Not too long ago I saw the first three books in an omnibus for 99 cents and decided to get it.  I mean, for that price I wasn't even worried if I ended up not liking it.  Turns out I love it!  I read the first three in less than a week.  The third one (Deadly Games) I even stayed up late to finish although work would be waiting the next morning.  I was so hyped up, strictly from the story, that I could not sleep until I finished it.  I had to know what happened.
Buroker has a gift for witty dialogue, often making me laugh out loud.  The team she has put together in her novels works well, and allows each character to shine.  Everyone has a distinct personality and gets fair page time.  She doesn't linger too long on one set of characters before checking in with the others, and the team is never split up longer than they need to be.  
These stories have stayed with me as well.  I'm a pretty avid reader, and honestly I don't remember all of the books I've read.  With these books and characters, I want to visit again.  I've even dreamed about them!  
And now that I've finished all the books and short stories in the Emperor's Edge series, I'm going to read her box set called The Forgotten Ages, which takes place about 20 years earlier and explores a couple of characters we meet later in the Emperor's Edge series.  Plus a young assassin apparently makes an appearance.
If you like fantasy and adventure, go for it!  Highly recommended!
---