Since time immemorial, humans have worshipped the gods they call Fhrey, truly a race apart: invincible in battle, masters of magic, and seemingly immortal. But when a god falls to a human blade, the balance of power between men and those they thought were gods changes forever. Now, only a few stand between humankind and annihilation: Raithe, reluctant to embrace his destiny as the God Killer, Suri, a young seer burdened by signs of impending doom, and Persephone, who must overcome personal tragedy to lead her people. The Age of Myth is over; the time of rebellion has begun.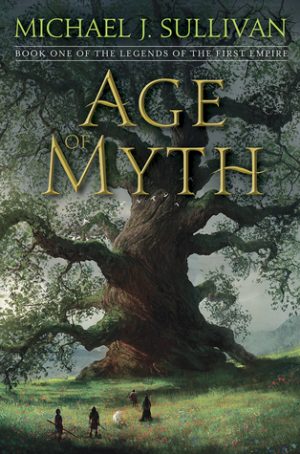 I was so excited to receive an ARC from NetGalley!  I'm a fan of Sullivan's work, and first started with his Riyria Revelations series.  From there I read the Riyria Chronicles as well.  So maybe I was a little biased going into this, based on how much I've enjoyed his past work.  
When the new series was announced I was very eager.  And the first installment, Age of Myth, did not disappoint.  In the Legends of the First Empire Sullivan is expanding the world that readers have come to know through Riyria by taking us back in time so we can learn some of the history as to how this world developed.  Age of Myth is the start of that history, where we see fundamental beliefs challenged.  Humans are learning that elves aren't gods, and the elves are learning that humans aren't animals.  
If you haven't read any of Sullivan's previous work, that's not an issue.  You can pick this one up and dive right in.  There are some throwbacks that readers will pick up on.  A few things they'll recognize from the Riyria novels.  However, I think it would be just as interesting to read the Legends of the First Empire first, and then follow up with Riyria.
Age of Myth is well paced. I was always eager to read more, and did not get bored with any section.  Sullivan has a way of writing a large cast of characters, where each character has their own history.  Sometimes with larger casts some of the characters can come off as two-dimensional. Not here.  Even Grin the Brown has a history that's woven into the story, making her feel every bit a full fledged character.  And she's a bear.
I can't wait for the story to continue in the second novel!
---